Playright Music Ltd.
Arts & Entertainment | Music Education & Instruction
Piano Lessons Dublin | Piano Teachers Dublin
Piano Lessons | Piano Teacher | Piano Consultancy (Advice)
Based in North-City Near DCU, M50: J4 & J5
Serving Dublin 3, 7, 9, 11, 13, North Dublin County, Co Meath and You!
Fresh approaches to piano lessons: Playright Music, the best place for after-school piano classes for children in Dublin. Dynamic and enthusiastic teaching promotes positive learning outcomes and develops a life-long love for music.
At Playright Music, we strive to be a national centre of excellence in piano and musicianship education that is among the best in Ireland for children and young professional pianists. We are a long-established independent school of music with more than 30 years piano teaching experience and have many past-students who are enjoying careers in diverse areas of music such as conductors, performers, producers, researchers and teachers. Many students come to us to avail of the most dynamic piano lessons Dublin provides, based primarily on the life-enhancing benefits of fluent musical expression.

If you wish to prove your attainments with graded practical examinations and graded music theory examinations, when appropriate, we will guide you well. However, our music teaching focus is always on developing your musicianship and not on the examination treadmill.

Ideally, prospective pupils should have a good piano that is tuned regularly at home for practising, or be willing to purchase one subsequent to commencement of lessons.

If you do not have a piano, or access to a piano, it may be possible to practise on a digital piano or digital keyboard — while it is not quite the same as an acoustic piano, it may be better to start on a good digital instrument rather than a poor acoustic one.

If you do not have access to a good piano to start with, perhaps starting on a more affordable instrument (e.g. recorder) would be something to discuss with us.

We welcome students who wish to learn to play the piano at all levels of ability — beginner, intermediate and advanced.
Please use the following content list to click on the area that is appropriate for you.


Topics: All About Learning How to Play the Piano
Young Children become Fluent in Music as Easily as in Language
(with Proper Guidance)

It is important that musical learning develops evenly across all areas of music: performance, literacy, and musical knowledge.


---
Priceless Guide Helps You Find
Best Quality Piano Lessons Locally

(Free to First 100)
Back to School - Back to Music!
Music Lessons Children
Just Published! This guide book helps parents find best quality music instruction locally. Available free of charge for a limited time. Like a copy?
€0.00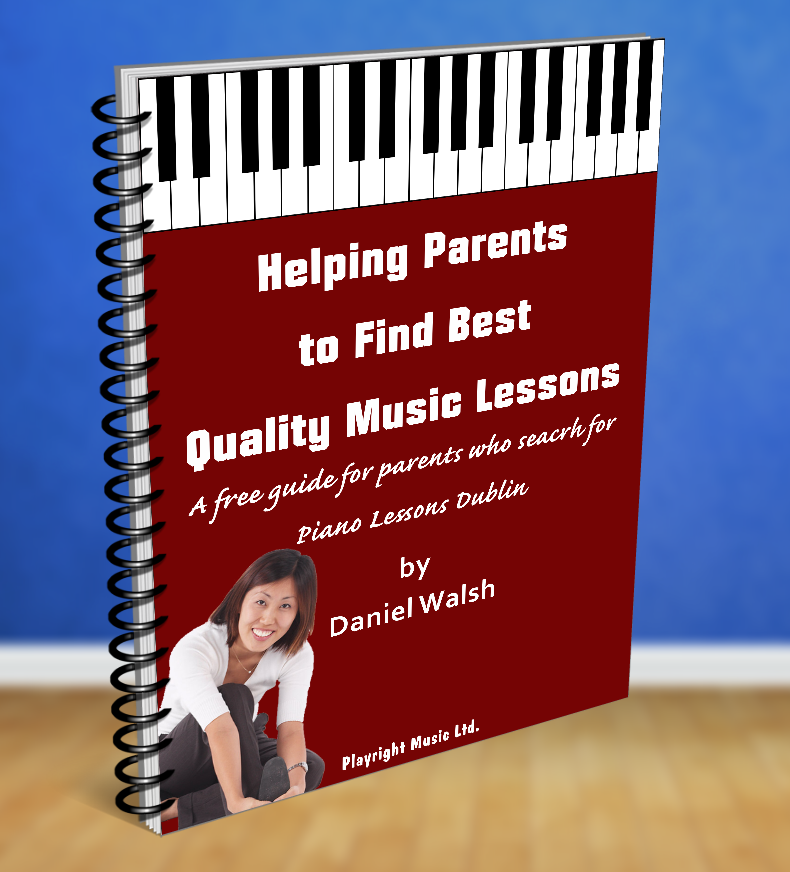 Is your child musical?
Helping Parents to find Best Quality Music Lessons
Like a book that tells you what you need to know before organising music lessons for your child? Free for a limited time. Order your copy now!
€0.00
More Info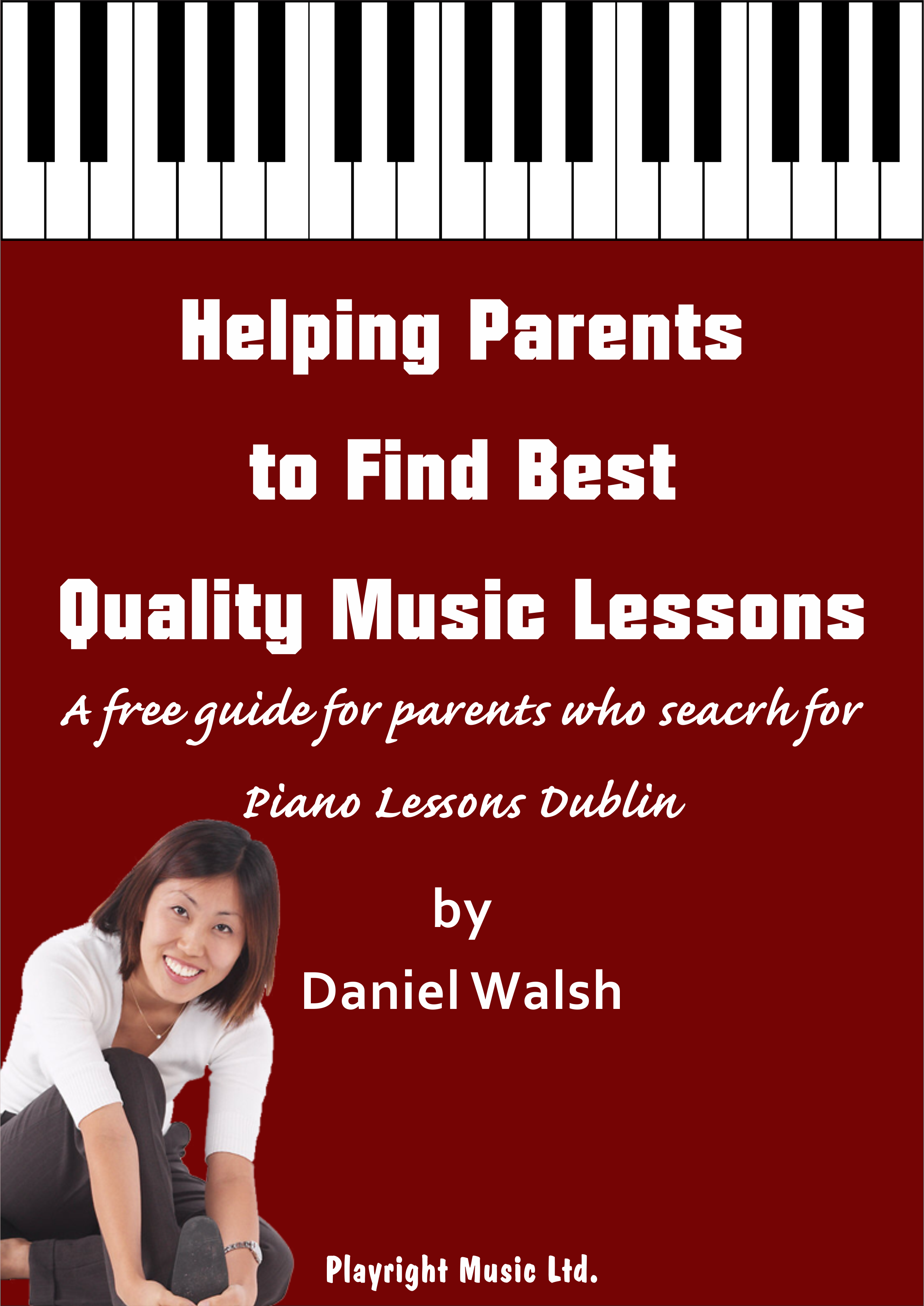 After-school Activity
Piano Lessons in Dublin
When children make progress in music, they develop confidence and develop self-knowledge. This helps them deal with life! Should your child join a music programme this term? This book tells you more!
€0.00
Order Now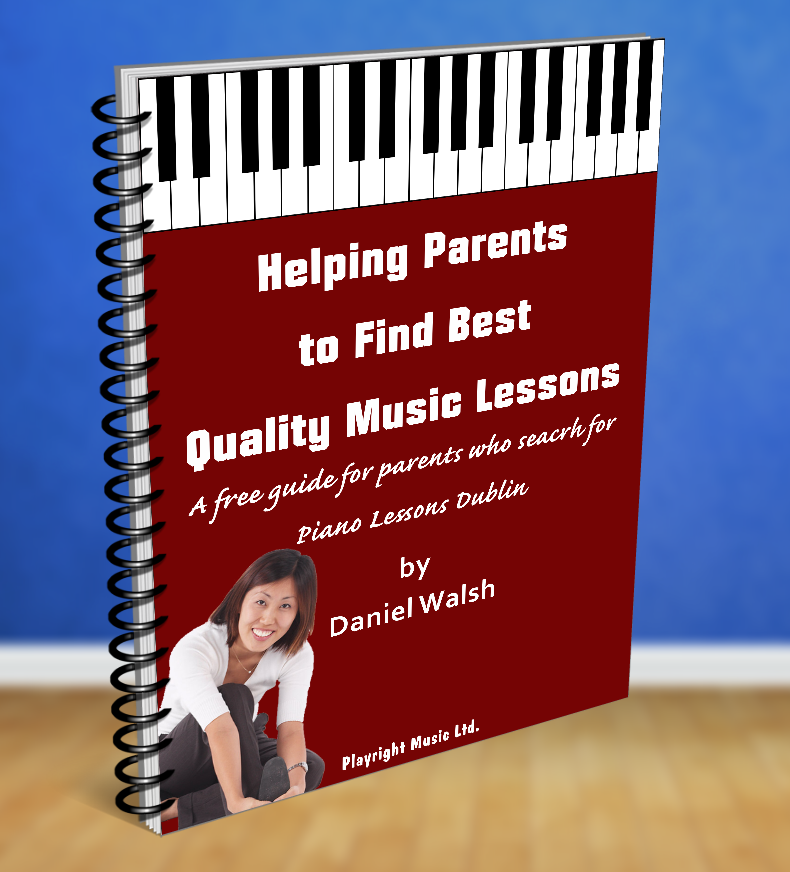 ---
Piano Tuition for Very Young Beginners
(Piano Lessons for Kids)
We teach piano to children from four years of age, provided the parents are 'active-observers' at the lessons and willing to support continuous development at home, for example, by repeating the lessons each day. Teaching kids younger than six years requires a different approach that includes more parental involvement and a playful atmosphere. At this age, children are acquiring language skills and they achieve fluency in their native language very quickly with little effort. Similar gains can be made in music.

Many famous musicians started learning at such a young age. Starting younger than six provides a wonderful foundation for learning music in the future. An early start supports progress in music and also has benefits that seem to reach out to learning in general - not only in music. There is a considerable amount of academic research showing that benefits of learning music include a positive effect on learning in areas of literacy and maths.

Here is a short movie that explains some of the most recent research on the impact of musical training on young children.


We can discuss the wonderful, life-enhancing value of music lessons further when we meet.
Meanwhile, you might like to read our free guide "
Helping Parents to Find Best Quality Music Lessons
".
"Recommended Highly!" (Click to see testimonial in full)
Q. Li, mother of Adam (5), Finglas, Dublin 11

Tell Me More About Piano Lessons for Very Young Children
---
Piano Lessons for Children Over Six
(Piano Classes Children)
For children who are around six years or older and who can learn independently of their parents, we offer Introduction to the Piano (click for more info) classes for children aged 6 to 14. Beginners are introduced to the elements of music through an experience-based approach centred on the Kodály concept of music education. Literacy is achieved effortlessly and progress is encouraged and supported at the learning speed of each individual. This type of piano tuition is child-centred and social. We find the children thrive in this type of musical environment where playing music is normal and not something that is elitist or only for exceptional people.

We believe that the benefits of engaging in music-making can be enjoyed by all children whether they are musically talented or not. Here is a short video that explains how music adds value and promotes prodigious progress in language learning in children.


Do you agree that your child deserves to reap the benefits of music in his/her life?

Blue-Jay
, our child-friendly mascot who loves music, lives
here
. He is always excited to tell you about our
piano classes for children
.
" title="Piano Classes Children" target="_blank" id="blue-jay-invites">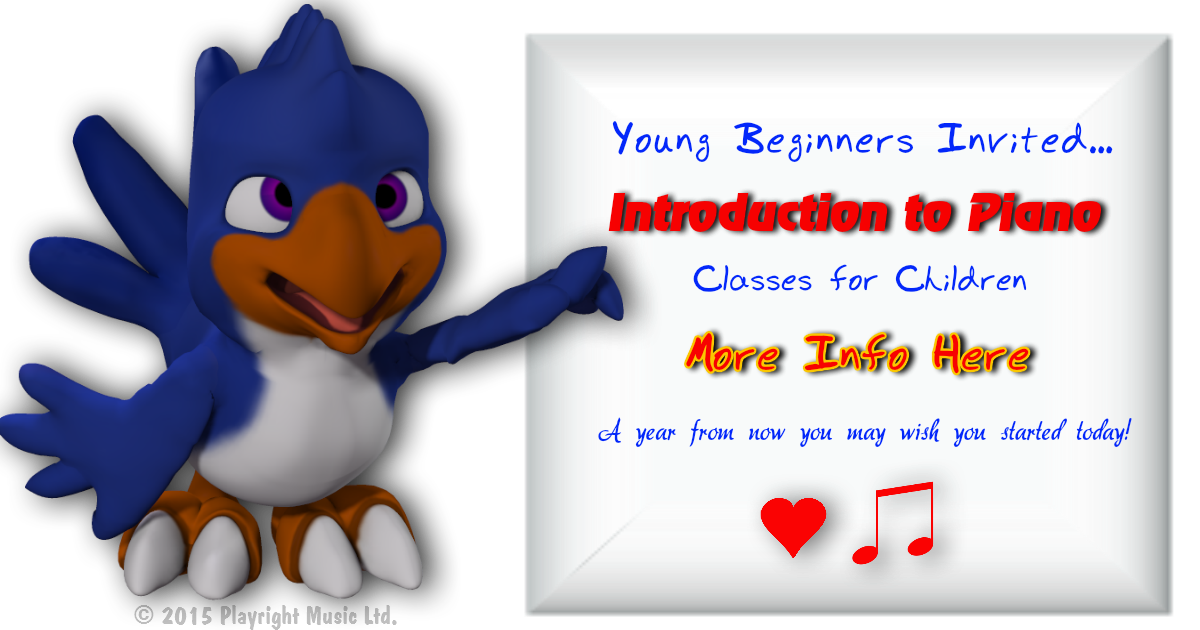 "Great Experience for Kids!"
N. Ryan, mother of Ciaran (9) and Adam (6), Collins Avenue, Dublin 9

"Encouraging, Positive and Supportive Approach"
C. Kelly, mother of Aoife (9), Glasnevin, Dublin 9

"Funny, Welcoming, Encouraging!"
Emma Wang (12), Ballymun, Dublin 11

---
The best thing you can do to help your child
get an 'A' in Junior Cert Music in 3 to 5 years' time
Children who do well in music exams usually start learning when they are young. Line up your child to do well in the State Examinations by arranging a course of piano and musicianship lessons now. With us, you will benefit from a solid training which will help your child in the practical performance exam AND provide a head start in musicianship — the knowledge that helps you do well in the written exam.

Our uniqueness rests in developing musicianship within instrumental lessons. Aware of the Dept. of Education and Skills curriculum, our approach compliments what students learn about music in school. After a period that covers the basic foundation, our students soon play pieces that are appropriate selections for the Junior Certificate Music exam.

If you would like to know more, call us today and we will include you in our meetings list during our next Information Day.

Join the smart people who think ahead... five year plans and ten year plans are not only for business people. Enjoy the present as you prepare for the future, today. Apart from exams, consider how engaging in musical activity is life-enriching for every child!


---
Piano Lessons for Teens,
Adult Beginners and Improvers
(Adult Piano Lessons | Piano/Keyboard Classes for Adults)
Teenagers, young and older adult beginners are welcome to start or even refresh knowledge from younger years. It is never too late to enjoy playing the classical repertoire on the piano. When you contact us, please outline if you are a beginner or have some experience and what your expectations are. We will meet you soon and discuss your requirements and how we can help you learn to play music and refine your performance. If you can already play at an intermediate or advanced level, we will offer you a chance to have private lessons (one to one) as soon as a place becomes available.
For Adult Beginners in Piano/Keyboard Performance
We welcome enquiries from those who are interested in joining our Introduction to Piano Class for Adult Beginners. The classes are focussed on learning foundational content quickly in a social and friendly environment. You will learn about the elements of music, knowing songs and realising them in piano performance with correct technique. Coursework is progressive and incremental - you will make wonderful progress over the weeks and months. You do not need to own a piano to start these classes. However, within a few weeks after starting, you will need to own or have access to a good acoustic or digital piano to do daily practice so you maintain progress with others in the class. If you are interested in joining, please click the button below and fill in the Request Info form and we will invite you for an informal chat before the next class starts. We recommend this class for adult beginners as it is difficult to offer one-to-one lessons to all who ask and the waiting time is shorter for group classes to form. We love sharing our enthusiasm for piano performance with as many as we can. These classes take place in the evenings at our teaching studio on Glasnevin Avenue, Dublin 11.

Why take piano lessons?
Watch this video which explores the wonderful joy playing the piano can bring to your life.


Please indicate if you are a beginner willing to start with other beginners in our piano classes for adults or if you wish to work intensively by yourself with one-to-one lessons. Beginners and advanced performers are welcome.
"Best Piano Teacher!"
Orla Ma (13), Beaumont, Dublin 9

Request Info About Piano Lessons for Adult Beginners
---
Piano Instruction for Developing Music Students,
Aspiring Professional Pianists and Piano Teachers
One-to-One Piano Lessons | Private Piano Lessons Dublin
One-to-one piano lessons (private piano lessons) are offered to students wishing to specialise in performance in a more serious way, i.e. make a commitment of time to practising piano and musical development every day.
Intermediate and senior piano pupils are encouraged to memorise a wide repertoire and to build the skills, techniques, tone production and stylistic interpretation that are appropriate for their repertoire.

We prepare for examinations, but our main focus is to foster intelligent musicianship in performers who will communicate emotional and spiritual insights in their playing. We would be delighted to discuss this further with you when we meet!

"Extremely Impressed!"
C. Kilgarriff, mother of Saoirse (18), Swords, Co Dublin

Request Info About Piano Lessons for Intermediate and Advanced Students
---
Piano Coaching for
Advanced Students and Performers
(Advanced Piano Lessons)
Pianists who are proficient and preparing new repertoire may require guidance in their preparation: setting targets and pacing progress; performing with informed style and expression; with communicating the deeper meaning of the music to your audience. Perhaps you may want guidance from an informed listener.

If you are preparing for a special performance, academic examination, external diploma or competition, contact us for either a course of lessons or for occasional lessons as will best meet your requirements.

A listing of all the music subjects we offer is available here.

If you wish to learn music more deeply and pursue a course of piano lessons, contact us to request a meeting (or audition). If you have the commitment, we have the knowledge and experience to boost your music performance enormously!
Request More Info About Piano Coaching Today
---
Piano Sparks: The Summer Course for
Intermediate and Advanced Students and Performers
(Takes Place in July, Annually)
If you are searching for a summer course for developing pianists, you might consider if our Piano Sparks programme in July would provide the stepping stone and encouragement to help you reach a higher level of achievement.
---
Skype Piano Lessons

|

Piano Lessons Online
Skype Piano Teacher
Piano or keyboard lessons online: Many of our local students travel quite a distance to our face-to-face piano lessons. As part of our digital outreach initiative for students wishing to study with us from further afield, one-to-one piano/keyboard tuition is available by pre-booked appointments via Skype. Please contact us for details and/or to arrange an initial call to establish that the connection will work well.

While we welcome enquiries from all over the world, please note we are piano tutors based in Dublin, Ireland (Western Europe): all lessons are in 'English (UK)' and fees are commensurate with our costs locally.

Our online piano and keyboard teachers are highly trained and have qualified with at least a Master's degree in music. When you request more info, please include your Skype name in the comments.

Testimonial Creation Form
Be the first to create a testimonial about our online piano lessons!

Request More Info About Skype Piano Lessons
---
Video Performance Reports and Assessments
Now You Can Record Yourself At Home!
No need to leave your home during the pandemic!
If you require feedback, advice and support towards improvement, you may be interested in our Video Performance Reports service. Please contact us for details and/or to arrange an initial call to establish your level, goals and targets and see if we might work well together.

After you submit your video recording, we will assess that it is fit for purpose and advise you what payment is due. We have a rate card that is based on the time your report will take and since that will vary according to the number of pieces presented and their duration, the rates are informed by individual quotations.

Once your payment has cleared, our knowledgeable teachers who are highly trained and have qualified with at least a Master's degree in music, will prepare a thorough printed report as feedback. You will discover what a highly trained musician thinks of your performance and you will receive advice about how to make improvements. An independent assessment might help reinforce points you have been told already and may also offer new insights to advance your musicianship and include valuable tips on practice skills. The report will suit your individual needs and help you in ways that are appropriate for your standard whether you are a beginner or an aspiring professional at a very advanced level.

Video Performance Reports are ideal as a way to support continual progress while maintaining social distancing during the Covid-19 Pandemic.
Suited to pianists, piano duets, small chamber groups, voice and piano. Is it right for you?

Testimonial Creation Form
Be the first to create a testimonial about our video performance reports!

Request More Info About Video Performance Reports
---
Our Guide Helps Parents to Find
the Best Music Lessons for Children, Locally

Just published! | Available Now! | Priceless Guide for Parents! | Free to First 100!
We are excited to announce the good news that our new advisory book has just been published and we are making it available here for free!
Advisory book: Helping Parents to Find Best Quality Music Lessons: A free guide for parents who search for piano lessons.

If you are searching for 'piano lessons dublin', or 'piano teacher dublin', or 'music teacher near me' you might appreciate the contents of this short book.

If you are a parent who is a little bewildered by the daunting task of matching your child with the best music teacher available locally, our guide is here to offer you insight and wisdom. It contains knowledge we wish parents knew before they embark on piano lessons, or music instruction of any kind.

This guide started out as a fact sheet we gave to parents who came to discuss piano lessons for children. For a limited time, we are making this available exclusively to all our website visitors for free! Let us know if you would rather pay for it! :)

Our guide contains significant information about music lessons:

Why do many parents provide music lessons for their children?
What is the value of learning how to play music?
How do children benefit from musical training?
How to recognise musical talent in children?
Should music lessons be provided to children who do not display a talent for music?
How to nurture a growing love for music?
How to encourage children to sustain on-going progress in music?
What is the purpose of music exams?
What do best music teachers hope to achieve?
Are piano and musicianship classes the best choice for your child?

The guide contains the kind of wisdom that might be taken for granted by musical families but probably absent in families with no musical experience. You will have a better understanding about what an exceptional musical training entails once you read it.

Order your free guide now while it is available. It will be yours to read in just a few minutes.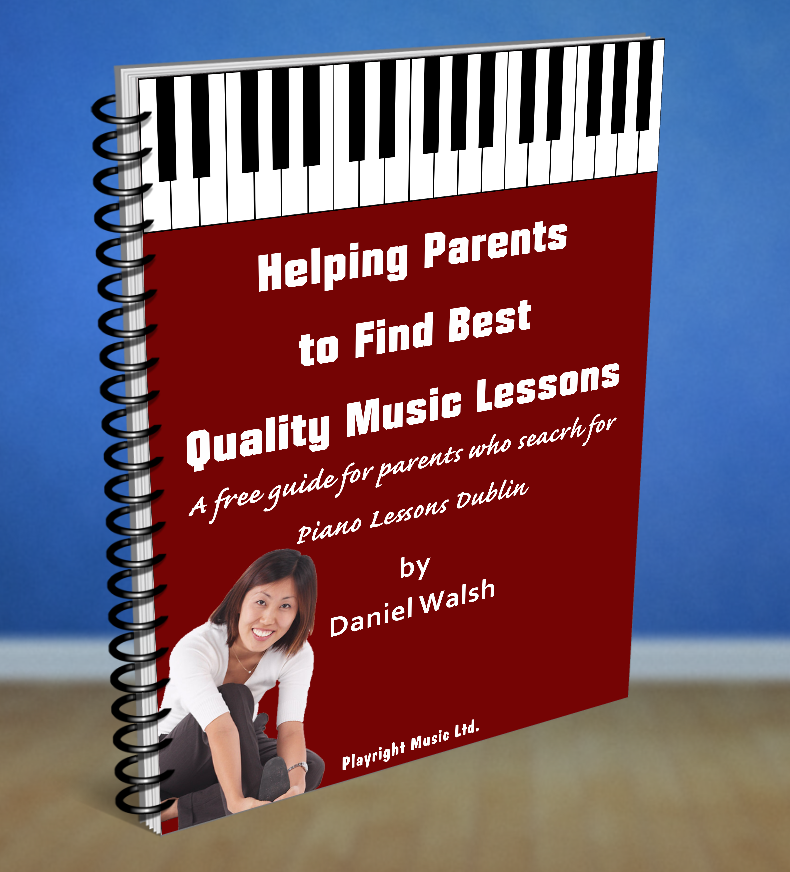 ---
Have you seen our page listing music books for piano students?

We have a helpful hint about how to improve sight reading at the piano here.

---
How to Start Learning to Play Piano?
Steps Towards Enrolment in a Course of Piano Lessons

Fill in the Request Info form
Check your phone number has no errors
Submit the form to us by clicking on 'Send'
Wait for us to call you and invite you to a free preliminary consultation
If you wish to enrol, we'll offer you options of times from those that are available
Your musical journey begins!
You are now a member of a large, worldwide community interested in classical piano performance!
Depending on when you send in your form, you may have the pleasure of a very quick response or you may have to wait a while. If you feel you are waiting too long, or wish to have a more speedy response, please try phoning us. Our open days happen three times per year and typically before the start of each new term. Our piano and musicianship classes are popular: not only do we have a waiting list for places, we have a list for preliminary consultation meetings too. We work through these in chunks at a time usually in September, January and April. Please be aware that during term time, our focus is on teaching students who have already joined. Do not be discouraged however; opportunities arise throughout the year for various reasons. Who knows, perhaps the next opportunity will be one that suits you more than anyone else. Send in your details today to be lined up for starting at the next term.
---
Find Our Location Here!

|

Directions to Playright Music
If you are wondering where in the world we are, here is a map that shows you our location exactly! If you are searching for 'piano lessons north Dublin', 'piano lessons near me' or 'piano teacher near me', this is where your search will end! At Playright Music, we aspire to be a centre of excellence in piano and musicianship education, for children and young professionals that is among the best in Ireland. If you are local and wish to travel to us, we are on the main road, Glasnevin Avenue, and mid-way between Finglas, Dublin 11 and Whitehall, Dublin 9, we are near to The Helix and also a few minutes from the M50 motorway junctions 4 or 5. If you are further away and wish to know our general direction, we are not far from IKEA, the furniture store on the north side of Dublin city.


Please remember to call us and make an appointment if you wish to come -- we would prefer to be free to see you when you arrive and not in the middle of meeting someone else!