Who is the piano teacher?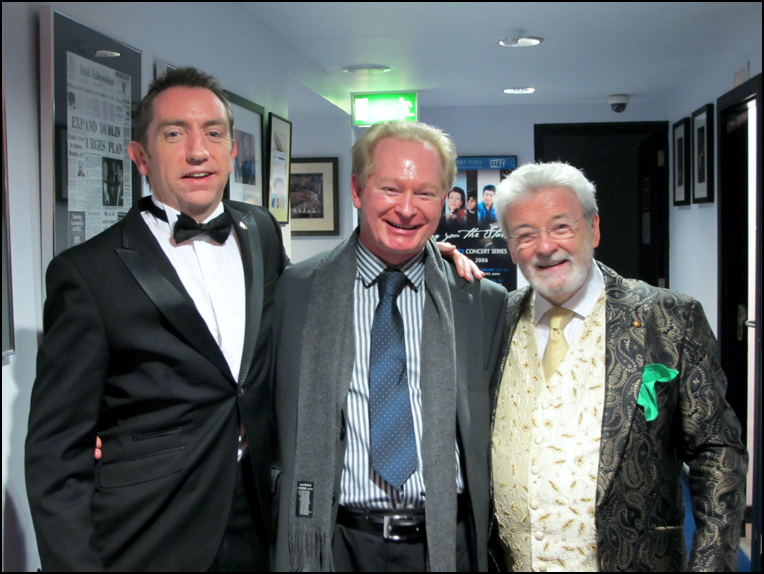 Music teacher Daniel Walsh (centre), with his distinguished past student, conductor and pianist David Brophy (left), and world-renowned flautist Sir James Galway (right) backstage at the National Concert Hall, Dublin, after a concert in 2012. You may have seen David presenting his TV programme 'High Hopes Choir' which won the IFTA award for Best Documentary Series 2015.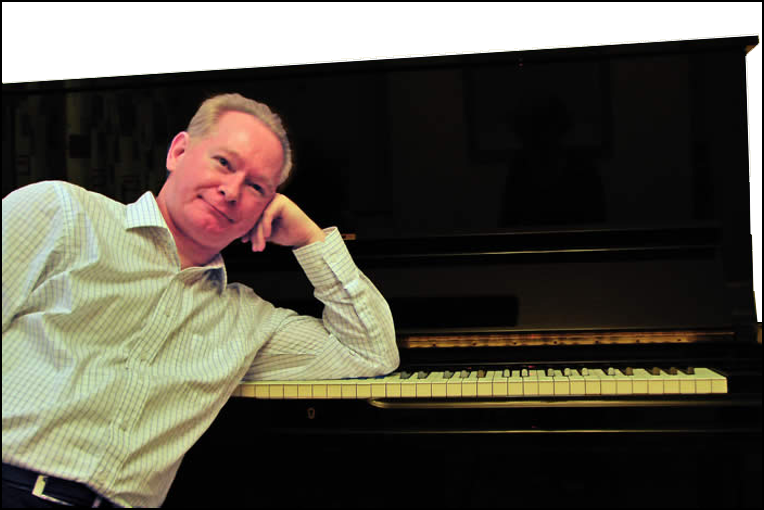 Daniel Walsh

Daniel has an honours master's degree in music from DCU and has more than 30 years' experience teaching music to children, adults and teachers. He has performed on stages at home and abroad including performances, recordings and broadcasts with the National Symphony Orchestra, the Ulster Orchestra, RTE, BBC, Naxos and has composed and performed some songs published as part of the Alive-O religious education programme. He has served 25 years as an examiner of music practicals for the Dept. of Education and Skills which included annual examining tours to secondary schools that teach music for Junior Cert and Leaving Cert examinations. He also was an examiner of choirs, orchestras and military bands. Several of Daniel's past students are working fulltime in music employed in teaching, performing, producing and conducting. His past students appreciate and enjoy music and value how it enriches their lives. Daniel teaches many young pianists who are senior or advanced students and who may embark on careers as performing musicians, if they so choose.

Daniel served several terms as chairman of the Irish Accordion Association and is the ex-officio chairman of the Kodály Society of Ireland which promotes excellence in music education using active-learning strategies. He was director of the highly regarded annual summer course for musicians and teachers, "Active Music Making: The Kodály Approach" from 2009-2017.

Daniel is author of the recently published guide book "Helping Parents to Find Best Quality Music Lessons: A free guide for parents who search for Piano Lessons Dublin" which is available, for a limitied time, free of charge, exclusively to our website's visitors.

Daniel is very interested in the psychology of education and is always searching for new ways to make teaching and learning more effective. His current research involves evaluating strategies that have a positive effect on progress in music teaching and learning and in developing transparent progress reports which are inclusive of students' participation thus helping them to create and record their own schemes of positive feedback. This is one way that makes his evidence-based teaching approach quite special. Would you like to benefit from this?

How much are piano/keyboard lessons for young beginners in Dublin? (Affordable Fees!)
Special Introductory Offer: Only €185 per term
With affordable pricing like this, there has never been a better time for beginners to start piano lessons! Don't you agree?
Next Opportunity to Start Piano Classes
Next term will start after Easter, 2019

Please contact us at your earliest (i.e. now!) so we can meet you and match your child appropriately with others of similar age and temperament. It is wise that you at least place your name on the list so you are lined up for the next starting opportunity. While most classes form in September, we also try to form classes throughout the year when there is sufficient demand.

Are you interested in best quality music education?
If you would like to come to a meeting and discuss piano tuition for your child, fill in the form and we will contact you in the near future.
If you have any further questions, we will be prepared to answer them when we meet. Meanwhile, here is a list of questions that are asked frequently by parents of prospective piano students.
Frequently Asked Questions
Q: Do we need a piano at home before we start piano classes?
A: A piano is not required for the earliest classes, but you might need one within a few weeks after starting. If you do not have a Fazioli, Kawai, Steinway or Yamaha grand piano in your home already, don't worry! (If you do have one, please let us know!) You can plan for a very good piano in the future. You can start with a more modest instrument. It is important to note that access to a good piano in a school, church, relative's or neighbour's house is fine. If you have access to two or three different instruments once a week, then you will not place a burden on one person. When you know there is real interest, then you can organise a good instrument for your home. Note: piano playing is a skill that requires regular practice daily.
Q: Is a digital instrument acceptable?
A: Digital instruments have improved over recent years. It is probably true that a good digital piano is better than a bad acoustic piano! However, please make sure that it is a decent digital piano and not a toy. Some toys may have lots of coloured switches and be impressive at first glance but, when you play them, they have no quality of tone or feedback to the performer whatsoever. They can't be played expressively. Such toys are not musical instruments. They are only toy versions of musical instruments. If you are not a musician yourself, perhaps a little context would help make this more clear. If your child reaches the appropriate age and asks to learn to drive… would you go to the toy shop and buy a battery powered toy that looks like a car and say learn with this? No Way! You would want a road-worthy car that is safe and in good working order. You would also want one that is responsive to the driver - that has the horsepower to overtake when required. Likewise, for a musician, it is wonderful to play a piano that changes its tone colour and volume throughout a performance as intended by the performer.

To learn to play the piano well requires a good piano, or access to a good piano, a few times a week and eventually a few times each day!
Q: Is it important to practise every day?
A: Yes. Daily practice is an important part of being a musician. What is your profession or occupation? You might answer something like fulltime parent or postman or computer programmer. Do you have to do that every day? :) The definition of a musician is one who thinks about and performs music each day.
Q: How long does it take to be a great performer?
A: About 10,000 hours of practice.
So start as soon as you can! And enjoy the life-long journey!
Q: Is there parking available at or near your teaching studio?
A: Yes. On street, side–to–kerb parking is available for free.
There is also a parking layby in front of the shopping strip nearby.
Please do not park on the grass verges in front of the houses.
Q: Do you do music exams?
A: Yes. When appropriate, we prepare students for the graded practical and theory of music exams of the Associated Board of the Royal Schools of Music. These particular examinations set the international standard and are available in most countries in North America, Europe and Asia. For children, we prepare them to do well in Junior Cert Music. However, if you are starting out, exams are not immediately appropriate. It is more important that beginners enjoy an exceptional training in music that encourages them to want to learn more, and receive a solid foundation by following a programme that is broad and more diverse than the narrow focus of exams. Perhaps postpone thinking about exams for at least 3 years. Then, your child will be a musician with solid grounding, secure knowledge, confident in performance: exams will seem easy and carry less stress!
Finally, Consider This...
Some of the world's most recognisable leaders have shared a love of music. Here are some quotes from presidents of America which show how highly they value music and how important they consider music education.
"Music education opens doors that help children pass from school into the world around them — a world of work, culture, intellectual activity, and human involvement. The future of our nation depends on providing our children with a complete education that includes music."

President Gerald Ford, United States of America
Another American president has positive memories of learning music in school and he still enjoys playing his saxophone.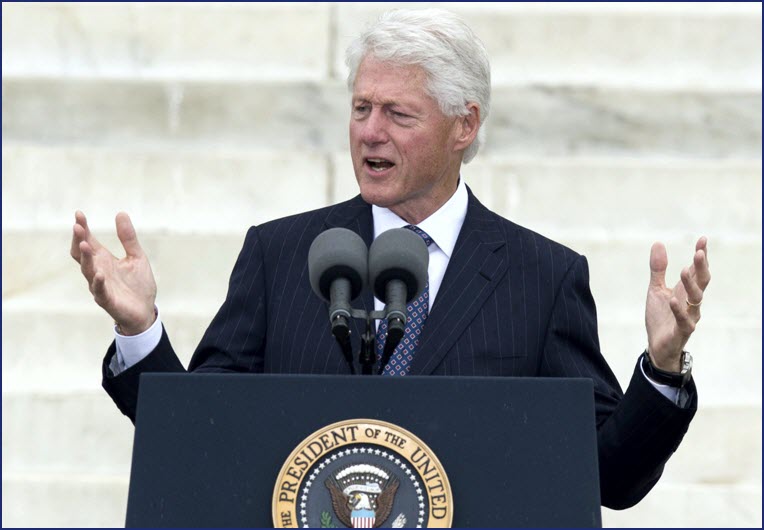 President Bill Clinton values music education
"Music is about communication, creativity, and cooperation, and, by studying music, students have the opportunity to build on these skills, enrich their lives, and experience the world from a new perspective."
President Bill Clinton, United States of America
We are blessed in Ireland to have a President who is a wonderful supporter of the arts: art, dance, music, poetry and song.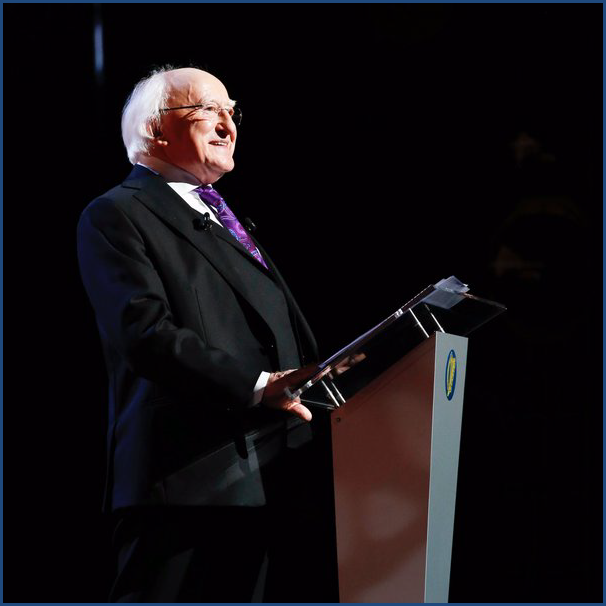 President Michael D. Higgins, Republic of Ireland
In 2016, Ireland celebrated the Centenary of the Easter Rising of 1916. At a broadcast of the 'Centenary' concert, the President of Ireland delivered a wonderful speech which ended with the following words describing how now it is time to let the next generation carry the cultural aspirations of the leaders of Irish Freedom Fighters:
"For the leaders of 1916, their political hopes and aspirations for what a free Irish Republic might be, were linked to a rich Irish culture, which they cherished and promoted. Within that vision, their ancient Irish language and culture, informed by our history and migration, was central to everything for which they hoped and fought.

Let us continue, then, to imagine and to dream - for that is surely how we best make use of our past - to build, together, a just and equal future.



Casann an roth

. The wheel always turns. What generations have created – beautiful, flawed and full of promise – we now entrust to the next.

We wish them well as they make music, and continue to dream

."
President Michael D. Higgins, Republic of Ireland
Who Else Will Enjoy the Benefits and Rewards of an Exceptional Music Education?
Now, you are well-informed about our piano classes for children and about the benefits of a top quality music education. If you wish to provide these exceptional benefits for your own child, so that he or she may 'make music and continue to dream', you have to take the next step.
What are you going to do?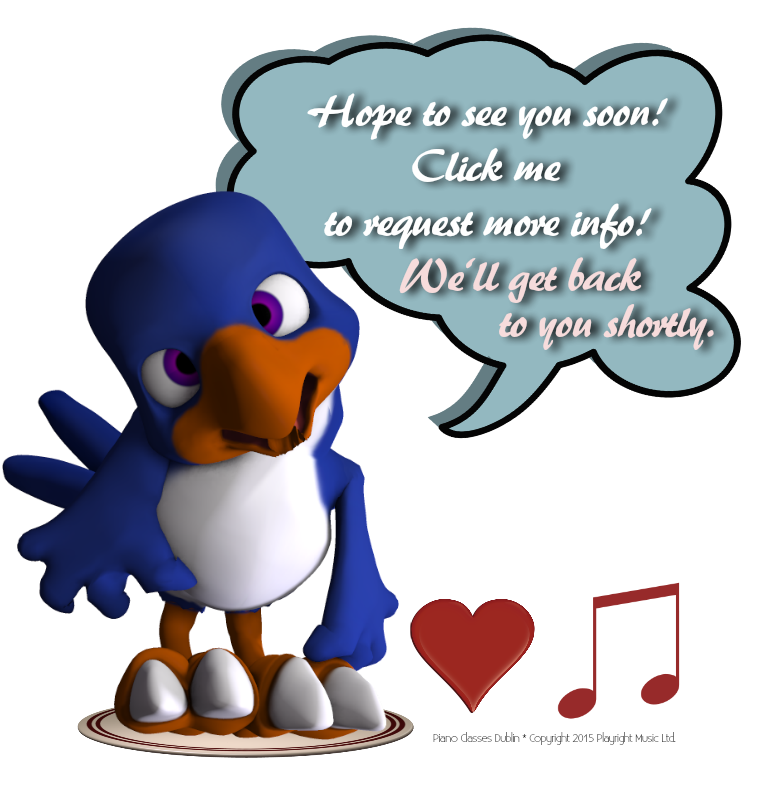 [For linking and marketing purposes, this article is about Education, Human Interest, Children and Youth Issues (M:NW), Education (M:F), Entertainment Culture, Music (M:H0), Western Europe (G:3), Living, Lifestyle (M:1T).
Specialisms: Piano Lessons Children, Piano Classes Dublin, Keyboard Classes Beginners, Beginners Piano Course, Dublin, Ireland.]
Piano Classes Kids
Affordable Piano Classes for Children
Beneficial Activity in Music for Children
Best Music Program for Children
Best Piano Class Deals in Dublin
Best Piano Classes in Dublin
Best Value Piano Classes for Children in Dublin County
Dynamic After School Piano Classes for Boys and Girls
Effective After-School Programme in Music for Children
Finest Piano and Musicianship Classes for Children in North Dublin
First-class Piano Teaching with Consistent Positive Learning Outcomes
First-rate Piano Teacher with Regular Progress Reports
Free Piano Class Consultation for Parents
Fun Piano Classes for Starters
Greatest Piano and Musicianship Programme in Dublin City and County
Group Piano Classes for Children in Dublin 11
High-Quality Music Programme Promoting Continuous Progress in Piano/Keyboard Performance
How do you enrol in piano classes? Call Playright Music!
Keyboard Lessons Dublin
Kids Piano Classes near Ballymun, Ballygall, Charlestown, Drumcondra, Finglas, Glasnevin, Phibsborough, Santry, Whitehall
Music Classes for Kids
Piano Classes Enrolling Now
Piano Classes with Daniel Walsh
Piano Classes with Qualified Teacher
Piano Training for Kids Near Me
Playright Music Piano Classes
Top of the Line Piano Classes
Top Piano Program for Talented Children
Where to buy piano classes in Dublin
Our Mission
To enhance the lives of the young, and young at heart, with an involvement in piano performance,
development of musical understanding and on-going musical progression.
Reach out to us if you think your child might benefit from having music in his/her life!
---