Tags: Piano Lessons Dublin, Music Lessons Dublin, Piano Classes Dublin, Piano Teacher Dublin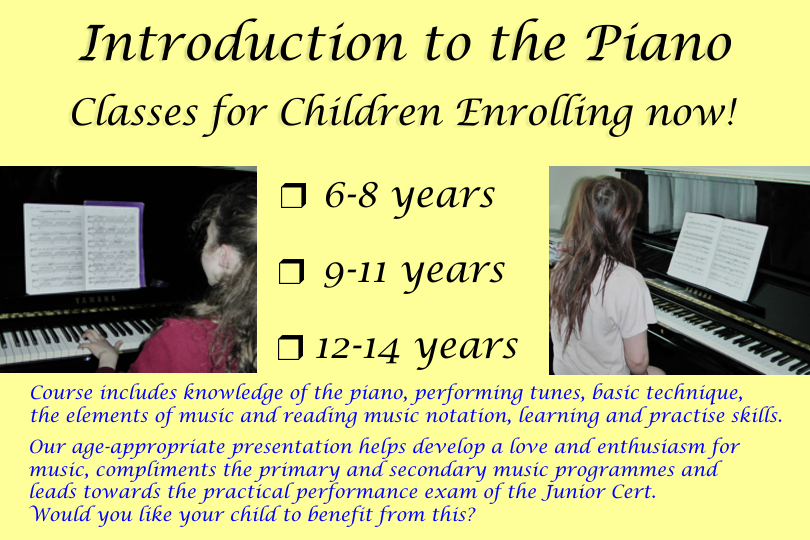 Piano Classes for Children
Welcome here!
Information about our Introduction to Piano Classes for Children

If this is your first time here, you have a very special welcome!
Thank you for your interest in our new programme of classes to introduce children to the piano.
Use the menu above this text to find out more about our piano classes. We have tried to answer as many of your initial questions as possible.

Next starting date: After Easter.

This is the last opportunity to start before September.

Contact us now to arrange a meeting in the near future.
We are enrolling now. Classes are small.
Act now if you are interested in this. We will have to organise a meeting with you before classes may begin.

Please note that class formation is dependent on a minimum number of applications for each age group.

If you like what you see here and wish to organise piano classes for your child or children, please express your interest by filling in the application form. The sooner you do this, the higher is your place on the waiting list.


A year from now you may wish you had started today!

If you fill in the application form, we look forward to meeting you in person in the near future.
Please tell your relatives and friends about us.
We would be delighted if you share this on Facebook.

Viva la musica!

Like this page -- Show your friends you are interested in our Introduction to Piano classes for Children
Use the Share button as a convenient way to tell your email contacts or your Facebook friends about our Piano Classes.

---
Join Playright Music on Facebook!
Click this Like button to join us on our Facebook page where we publish posts about piano and music education.
We may also issue discount tokens from time to time. :)



E&OE
© Copyright 2012, 2018 Playright Music Ltd.
Link to your most important website content.